Location Map:
May 13, 2018
5:00 am to 8:00 am
Lobster Shack
8 Main Street
Souris, Prince Edward Island

Canada
Add to Calendar (iCal) Add to Google Calendar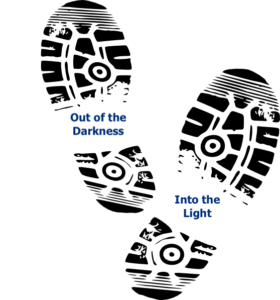 Out of the Darkness & Into the Light is a 5KM sunrise walk to raise awareness and funds for suicide prevention efforts.  Organized by the Gaelic Celts Athletic Association of Prince Edward Islanders, 100% of proceeds will go to CMHA-PEI in support of suicide prevention programming.
Two separate walks are being organized – one in Charlottetown on May 12th and one in Souris on May 13th.
Registration is $25/ adult 18 years or older. Children and youth under 18 can participate for free.  Pre-registration is encouraged to keep early morning line-ups to a minimum. A tax receipt for the full ticket price will be issued. You can pre-register online and/or make a donation to this event through the following links.
Register for May 12th in Charlottetown
Register for May 13th in Souris
You can also pre-register by calling (902) 566-3034 with a credit card number or register the morning of the event with cash or cheque.
Following both events there will be a reception hosted and complimentary tea, coffee and snacks provided. This will also be a time for reflection. We thank you in advance for checking out this page and look forward to seeing you there!