Location Map:
May 11, 2018
6:00 pm to 11:00 pm
Credit Union Place
511 Notre Dame Place
Summerside ,

Canada
Add to Calendar (iCal) Add to Google Calendar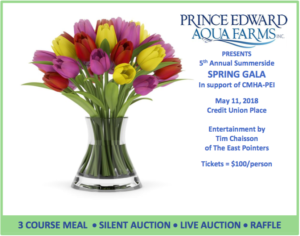 Please call (902) 566-3034 or email division@cmha.pe.ca to order tickets.  Don't wait, they're going fast!!!
We're still looking for sponsors.  If you're interested, please check out our Sponsorship Package.