May 11, 2019 to May 12, 2019
8:00 pm to 10:00 pm
Add to Calendar (iCal)
Add to Google Calendar
Who doesn't love a good laugh?
Even when it's in the middle of being angry or sad, laughter can be beneficial.  It can change moods in an instant.  This happens in great movies also.  One minute you are crying and then the character says something funny and the whole audience is switching to a different emotion.  The switch is so automatic and quick we don't even realize just how amazing our brains are. So why don't we offer our brains a more consistent source of humour more often?
This Saturday make a point to laugh. You know where to find it. Maybe it's your favourite comedian's Netflix special, or a friend you have that has you in stitches every time you get together. Regardless, seek it out.  If you're at a loss, and have some time and cash to spare, why not join Patrick Ledwell at Harmony House Theatre in Hunter River for Working on It – a night of comedy about life, work and staying well.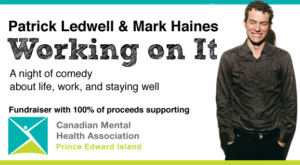 Tickets are $20 + taxes and fees and can be purchased through TicketPro by clicking HERE.  CMHA-PEI has a limited number of tickets.  Please feel free to call us at 902-566-3034.