WHAT IS IT?
In 2017 the Prince Edward Island Marathon partnered with the Murchison Foundation to help raise awareness and funds for mental health programs and services for Islanders. In that first year the partnership resulted in $15,000 being raised which was used by the Canadian Mental Health Association, PEI Division to expand its reach to include (but not limited to):
Over 1,200 people receiving psycho-social rehabilitative programming
212 people receiving help in securing safe and affordable housing (there are still over 100 on the waiting list for this service)
385 people receiving employment services
supporting over 40 self-help groups
almost 6,000 people (children, youth, adults, teachers, coaches, counsellors and first responders) participating in education and training programs
assisting hundreds of people in navigating mental health programs available in Prince Edward Island
This year participants in the PEI Marathon were instrumental in once again raising $15,000 for CMHA-PEI, however the staff and volunteers for the Marathon would like to do more, so they're issuing a challenge to past participants and all Islanders to raise an additional $10,000 by December 7, 2018.
SOME GREAT PRIZES UP FOR GRABS!
The Prince Edward Island Marathon and its partners have put together some amazing prizes for the top individual and team fundraisers.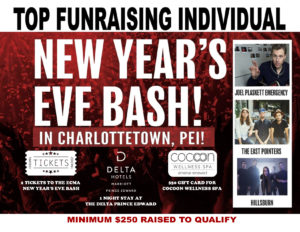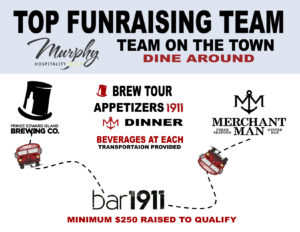 WHERE DOES YOUR MONEY GO?
The Canadian Mental Health Association opened its doors in 1959 and the first program that was launched was called White Cross.  The White Cross program is a social recreation program for adults with persistent mental health challenges.  While most people with mental health problems or mental illness live rich and full lives, others can suffer real deficits including limited opportunities for recreation and socialization and the inability to take advantage of opportunities that would allow them to increase their income and quality of life. This is where White Cross comes into play.  Every month staff and volunteers, with the help of local service clubs and donations, organize free dances, bingos, softball games and other activities for members to attend.  An average of 130 people attend each event.
During the holidays the same staff and volunteers organize a gift distribution program.  Gift bags containing hats, mitts/gloves, scarves and toiletries, and sometimes coffee vouchers, food vouchers and even movie vouchers, are distributed to White Cross members across PEI.  In 2017 the program distributed 700 gift bags.  For a large portion of the White Cross membership, this was the only gift that they received.  A lot of members don't have immediate family in the province and their circle of friends is limited to the few they have made through the program.
Money raised through the PEI Marathon 30 Day Challenge will be prioritized to the White Cross Christmas Campaign with any surplus funds going to general programs and services. By joining this initiative, you will be helping CMHA-PEI make spirits bright in what can be, for some, a particularly isolating time of year. This year White Cross staff and volunteers will also be including clients of CMHA's homelessness initiatives, which will result in an additional 100 or so gift bags being distributed during this holiday season. Any help in reaching this goal is greatly appreciated.
HOW TO GET INVOLVED:
You can DONATE:
In person at CMHA-PEI (178 Fitzroy) or at the PEI Marathon Office (40 Enman Crescent)
By calling (902) 566-3034
Online by clicking HERE
You can FUNDRAISE:
Through your 2018 PEI Marathon Race Roster page which automatically has a fundraising portal/link that you can send to your contact lists or post on social media.
By creating an online individual or team fundraising page through CMHA-PEI's Canadahelps.org account – click HERE. As with Race Roster, you can copy your fundraising page link and send it to your contact lists or post it on social media.  All donations you receive will be tracked and added to your total.
"Old school"? You can download pledge forms, collect the cash, and then submit it to the PEI Marathon or CMHA-PEI offices by December 7, 2018.
GOOD LUCK AND THANK YOU FOR HELPING THE PEI MARATHON SUPPORT OUR WHITE CROSS CHRISTMAS CAMPAIGN!!
Need help crafting your ask?  We've put together a couple of examples you can email out to contacts or post on Facebook.
SAMPLE-MESSAGES-TO-SEND-VIA-SOCIAL-MEDIA-1
*tax receipts available for all donations made, regardless of medium.
NEED HELP?
Call Bianca at (902) 628-3668 or email b.mcgregor@cmha.pe.ca.