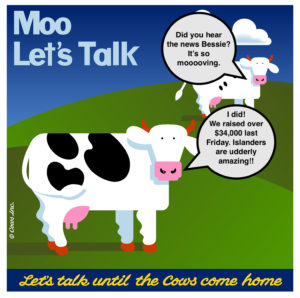 Take a minute to watch our friend Patrick Ledwell fill you in on this year's campaign.  It's going to be udderly fantastic!!!
WAYS TO SUPPORT MOO LET'S TALK AND HELP SPREAD THE WORD
Follow COWS or CMHA PEI on Facebook, Instagram or Twitter and share, like and comment on Moo Let's Talk posts or check in as "going" on our Facebook Moo Let's Talk event page and then share it!
Go to Facebook and add one of the Moo Let's Talk profile frames to your profile picture.  
Download and print a  Moo Let's Talk Poster and put it up at your work, local gym, grocery store. OR – you can swing by CMHA at 178 Fitzroy before 5pm and pick some up.
Make a plan to visit one of the COWS locations on Friday, March 8.  The downtown store is open from 10:00 a.m. to 6:30 p.m. and the Creamery is open from 10:00 a.m. to 9:00 p.m. 
When you're at a COWS location and you're patiently waiting in line for some utterly delicious ice cream, break out Snapchat, take a selfie and throw our Moo Let's Talk filter in there and show all of your friends what a good time you're having. Hopefully they'll get jealous and pop by too! 
Can't make it on Friday, March 8th?  No sweat.  You can order a limited edition Moo Let's Talk t-shirt online and wear it proudly around work, home – even while on vacation.  Just click on the picture below to start the process.  
7. It's not too late to become a sponsor!  Check out our Moo Let's Talk Sponsor Doc 2019.
8. Make a donation to the Moo Let's Talk campaign and we'll add it to the COWS total.  Click HERE to donate online or call us at (902) 566-3034.
IT'S NOT JUST A FUNDRAISER!
MOO LET'S TALK is an annual fundraising event and general awareness campaign hosted by COWS Inc. Parodied after the popular Bell Let's Talk, Moo Let's Talk is designed to encourage people to talk about their mental health, seek help if they need it, and raise funds for mental health programs and services delivered in the province of Prince Edward Island.
This year the Meek family of Stratford, PEI have bravely stepped up to start this year's conversation.  Watch as they share their story in an effort to encourage others to talk about mental health and seek help when it's needed.
PRESS AND CONTACT INFORMATION
Contact:
Bianca McGregor
Manager, Fund Development, Marketing and Promotions
b.mcgregor@cmha.pe.ca
902-628-3668 of 306-737-3031(cell)