If you're looking for different ways to support CMHA-PEI Division look no further!  We're so lucky to have great community support.  Here are a few individuals and businesses that either pledge a % of sales to CMHA-PEI or host third party events (this means we're not the organizers) where CMHA-PEI is the recipient of proceeds.  How great is that?!?
EVENTS YOU CAN ATTEND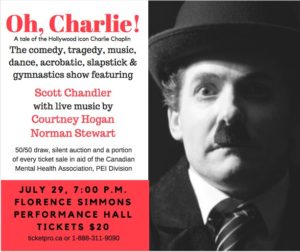 Oh Charlie!
From his Vaudeville days to his final moments, the tale of the Hollywood icon Charlie Chaplin is told by local performer Scott Chandler. During the performance, he'll take the audience through Charlie's life of constant contrast from his rags to riches, from his crazy to brilliant, and from his loved to hated. Although best known for his silent comedy films, the performance also journeys through Chaplin's many other attributes as a composer, a lover, a writer, a director, a political activist and as WC Fields once said "the best ballet dancer that ever lived."
Described as 'the comedy, tragedy, music, dance, acrobat, slapstick and gymnastics show', Chandler stays true to the spirit of Charlie Chaplin by writing, directing and performing the show entirely himself. As a former National gymnastics champion and Olympic training team member, his personality and athletic background lend themselves perfectly to impersonating one of the world's greatest impersonators. The show will be accompanied with live musical performance by accomplished local fiddler Courtney Hogan, along with singer/guitarist Norman Stewart, step dances and bagpipers.
The show will take place on July 29th at the Florence Simmons Performance Hall.  Tickets are $20 and can be purchased online at TicketPro or by calling 1-888-311-9090.
Additionally the show has partnered with the Canadian Mental Health Association, PEI Division and a portion of each ticket sale, along with a 50/50 draw and silent auction prior to the performance, will be donated to support mental health programs and services for Islanders.
ACTIVITIES YOU CAN DO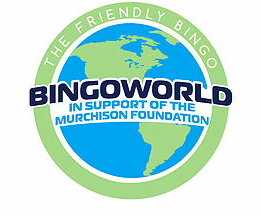 Play bingo!  All of the proceeds from Bingoworld in PEI, a business owned by the Murchison Foundation, comes to CMHA-PEI.  ALL PROCEEDS!!  They have locations in Charlottetown, Summerside and Alberton.
Follow them on Facebook @BingoWorldPEI for the latest updates on games, jackpots and operating hours.
PRODUCTS YOU CAN BUY
SALT – Salts of the Earth, an Island based company that makes all different types of artisanal salts.  A portion of every sale goes to Random Acts of Kindness PEI and CMHA-PEI.  Salt is a kitchen/pantry staple.  Everyone needs it.  www.saltsoftheearth.ca for more.
CANDLES – Island Sandles Scented Candles is a Junior Achievement Company that pairs Island sand and scrumptiously scented wax candles to make a unique and homegrown gift anyone would love to get under the tree.  One dollar from every candle goes to CMHA-PEI. Beautiful yummy smelling and philanthropic!  How could you go wrong? Check out their Facebook page for ways to purchase.
CLOTHING – did you know that Fog Off Clothing gives a portion of every sale to CMHA? It's true! Pick up some trendy threads by visiting Pseudio in the Charlottetown Mall or order something through their website.