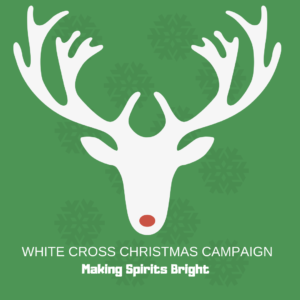 The Christmas Campaign is an extension of the White Cross Program which provides social recreational activities for people 18 years and older who experience mental or emotional health problems.  Members of White Cross often find that their opportunities for socialization are limited, hence the reason for the program.  Feelings of isolation can be exasperated during the holidays. White Cross volunteers actively seek donations to include in gift packages to members who might not have a network of friends and family to gather with over the holidays, and/or the financial resources to invest in small necessities and luxuries.  These small gifts and acts of kindness go a long way in ensuring the recipients feel valued and maintain good spirits during a time which can be particularly hard for some.
In 2018 the Christmas Campaign resulted in over 950 gifts being distributed to individuals from across the province.
SOUGHT AFTER ITEMS
Hats • Mitts • Socks • Gloves • Toothbrush • Tooth Paste • Deodorant • Shampoo ·Conditioner • Razors • Shaving Cream • Calendars • Books • Chocolates • Sugar Free Candies • Coffee and other gift cards
DONATION BOX LOCATIONS
Charlottetown
Fitzroy Centre, CMHA-PEI Office, Price-Mart (next to PetSmart), Queens County Residential Services, McGill Centre, Richmond Centre, Sherwood Drug Mart, Bingo World, Parkdale/Sherwood Lions Club Bingo, Confederation Library
Summerside
Notre Dame Place/CMHA Office, The Medicine Shoppe, Shoppers
Kensington
Murphy's Pharmacy
Tyne Valley  
Murphy's Pharmacy
Alberton  
Brays Independent, Alberton Pharmacy, Hope Centre
O'Leary
O'Leary Farmer's Co-op
Tignish
Credit Union
Donation boxes will be picked up from all locations by December 6, 2019.
MONETARY DONATIONS
You can donate online, by calling (902) 566-3031(credit card), in person at any of our CMHA locations(cash /cheque – debit/credit accepted in Charlottetown), or by mailing a cheque made out to Canadian Mental Health Assoc. PEI to P.O. Box 785, Charlottetown, PE C0A 7L9.