ELEMENTARY LEVEL PROGRAMS
I'm Thumbody is a self-esteem program targeted to children in grade three.  It's delivered by trained volunteers and promotes mental health by teaching about self-esteem and emotional awareness.  It is offered to all public school grade three classrooms.  READ MORE
Program contact:
Kings County: Amanda Gallant Squires / a.gallant-squires@cmha.pe.ca / (902)-838-248
​Queens County: Sarah MacEachern / s.maceachern@cmha.pe.ca / (902)-628-1648
​Prince County: Darbie Oliver / d.oliver@cmha.pe.ca / (902)-853-387
JUNIOR HIGH
ACCT for Life is offered annually to intermediate schools across PEI and meets the required learning outcomes of the Intermediate Level Health Curriculum. Using interactive discussions, learning tools and several short videos, this 80-minute workshop is presented by a trained facilitator and safely explores the topics of mental health and suicide with youth, aged 13-19 years. For more information read the ACCT info sheet.
Program contact: Pat Doyle / pdoyle@cmha.pe.ca / (902) 628-3669
HIGH SCHOOL
safeTALK is a half-day alertness training that prepares anyone over the age of 15, regardless of prior experience or training, to become a suicide-alert helper. Most people with thoughts of suicide don't truly want to die, but are struggling with the pain in their lives. Through their words and actions, they invite help to stay alive. safeTALK-trained helpers can recognize these invitations and take action by connecting them with life-saving intervention resources, such as caregivers trained in ASIST. READ MORE
To schedule a session for your school, please contact Les Wagner (below). Pre-registration is required by contacting the program contact. 
Program contact: Tayte Willows / t.willows@cmha.pe.ca / (902) 628-1648
SPORTS PROGRAMS
Talk Today is one of the most comprehensive mental health programs for amateur sports in Canada. Its aim is to promote the mental health of young athletes and to spread awareness about the benefits of positive mental health throughout communities across the country.
Originally launched by CMHA Ontario Division in partnership with the OHL in 2014, Talk Today provides an important opportunity to address the mental health needs of athletes across the province and across Canada. The program has become a valuable platform for CMHA branches, local sports teams and individual players to encourage open discussion about mental health within the community and the broader public. READ MORE
Program contact: Les Wagner / cmhawest@cmha.pe.ca / (902) 436-7399
EDUCATION AND TRAINING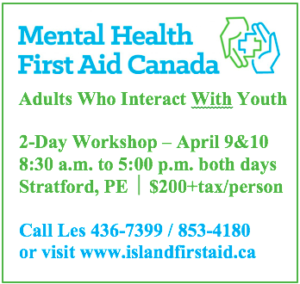 Mental Health First Aid (MHFA) for Adults who Work with Youth – is the help provided to a youth developing a mental health problem, experiencing the worsening of an existing mental health problem or in a mental health crisis. Just like physical first aid is provided until medical treatment can be obtained, MHFA is given until appropriate support is found or until the crisis is resolved.
Please visit www.islandfirstaid.ca for a course calendar and to register. For more in-depth information about Mental Health First Aid, please visit www.mentalhealthfirstaid.ca.
This workshop is targeted to adults who work with youth (14-25) and helps participants:
recognize the signs and symptoms of mental health problems in youth
provide initial help
guide youth towards appropriate professional help
Cost of the workshop is $200 + tax/person and includes snacks and materials. Lunch is not provided. Registration can be completed at https://islandfirstaid.ca.
Training contact: Les Wagner / cmhawest@cmha.pe.ca / (902) 436-7399
There are a number of other opportunities to learn more and develop new skills through our education and training programs. Please click HERE for a complete list of what we offer.
SELF-HELP GROUPS
If you've got a student or kid on your team that is struggling, self-help groups might be a good avenue. There are a number of self-help groups across the island that we support. There are some targeted to youth and some groups that might be a good resource for parents. Participating in self-help offers social support, relief from isolation and provides education and practical information. Most importantly, participants know you're not alone because they're surrounded by others with similar struggles and experiences.  Click HERE for a complete list.