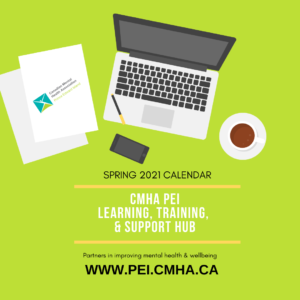 CMHA PEI Learning, Training and Support Hub uses adult education strategies and health promotion approaches to help individuals, families and professionals increase awareness, improve their wellbeing, foster positive mental health, and develop skills for resilience.
All courses are free. Anyone aged 16+ is welcome to register. These courses were developed and are delivered by individuals with relevant lived experience and by people with relevant training and professional backgrounds.
Our courses are friendly, informative, and engaging. You can expect thoughtful content as well as lively discussions, helpful applications, and interesting activities that will enable you to learn and apply the material.
Register by contacting:
Kings County: Amanda Gallant Squires / a.gallant-squires@cmha.pe.ca / (902)-838-2489
​Queens County: Sarah MacEachern / s.maceachern@cmha.pe.ca / (902)-628-1648