'Grief After Suicide' brochure offers survivors of suicide loss an introduction to information resources and supports that can assist them in their grief journey.
'Survivor of Suicide Loss Information Kit' offers more information and support options for those impacted by suicide loss and can be mailed out, upon request, by calling 902-628-3669.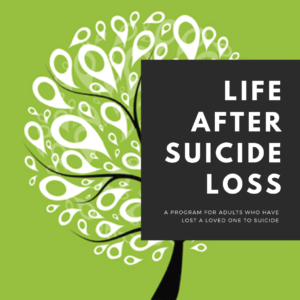 Life After Suicide Loss (LASL) Group is a 9-week, closed suicide bereavement group available to adults who have lost a loved one to suicide. The group is facilitated by clinicians, and includes an optional monthly support group called LASL Side-by-Side, which offers ongoing peer support. Call McGill Centre at 902-368-4911 to register for the next course which starts January 7, 2021 in Charlottetown. Read more…
"This program is exactly what is needed for survivors of suicide loss. In the beginning we have the support and guidance of trained professionals. Then afterward, through monthly group meetings, we have seasoned survivors following up with us. We can also access help from the LASL group leaders and from CMHA as needed."
A toolkit for people who have lost someone to suicide was designed by the Mental Health Commission of Canada. 
 'Child Survivors of Suicide Loss Information Kits', are available for loan to families so that they can help support children and youth impacted by suicide loss by calling 902-628-3669. For additional resources, please visit The Dougy Centre for Grieving Children and Families. 
Multi-media resources relating to suicide grief are available for loan through CMHA's local Resource Libraries.