World Suicide Prevention Day (WSPD) is recognized annually on September 10th.  The day serves as a reminder and a call to action for individuals and groups to collaborate to find ways to support those impacted by suicide and suicidal behaviors. Check out these links for more information.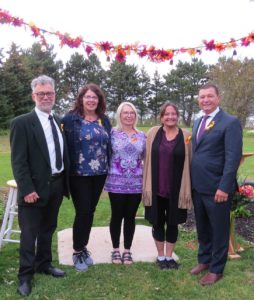 To recognize WSPD 2019 on PEI, a community event was co-hosted by the Canadian Mental Health Association, PEI Division and Lennon Recovery House on September 10th from 6:00 to 7:00 p.m. in the Gardens of Hope at Lennon Recovery House, North Rustico, PEI.
The evening included music, fellowship, hope and healing and was open to all members of the public.
Pictured from left to right are Dr. Ed Hansen (Suicide Prevention Management Committee Chair), Pat Doyle (CMHA Suicide Prevention Coordinator), Dianne Young (Lennon Recovery House), Julie Pelisier Lush (Mi'kmaq Confederacy of PEI) and Senator Brian Francis.
OTHER WAYS TO SHOW YOUR SUPPORT
Light a candle near a window at 8pm on WSPD. Through the world, candles will shine as a beacon of hope. This is a simple action in remembrance of those who have died from suicide, and in honour of those who survive after being impacted by suicide.
Wear a ribbon.
 Join others throughout the world in wearing an orange and yellow ribbon as a sign of support for suicide prevention. The colours symbolize a candle's flame – hope and light in darkness.  Ribbons will be available free of charge at the event in North Rustico. CMHA Division Office has a small inventory of ribbons on a first come, first serve basis. If you are planning on organizing your own event, or you would like to source a large amount of ribbons, the Canadian Association of Suicide Prevention as them available for sale at the following
LINK
.