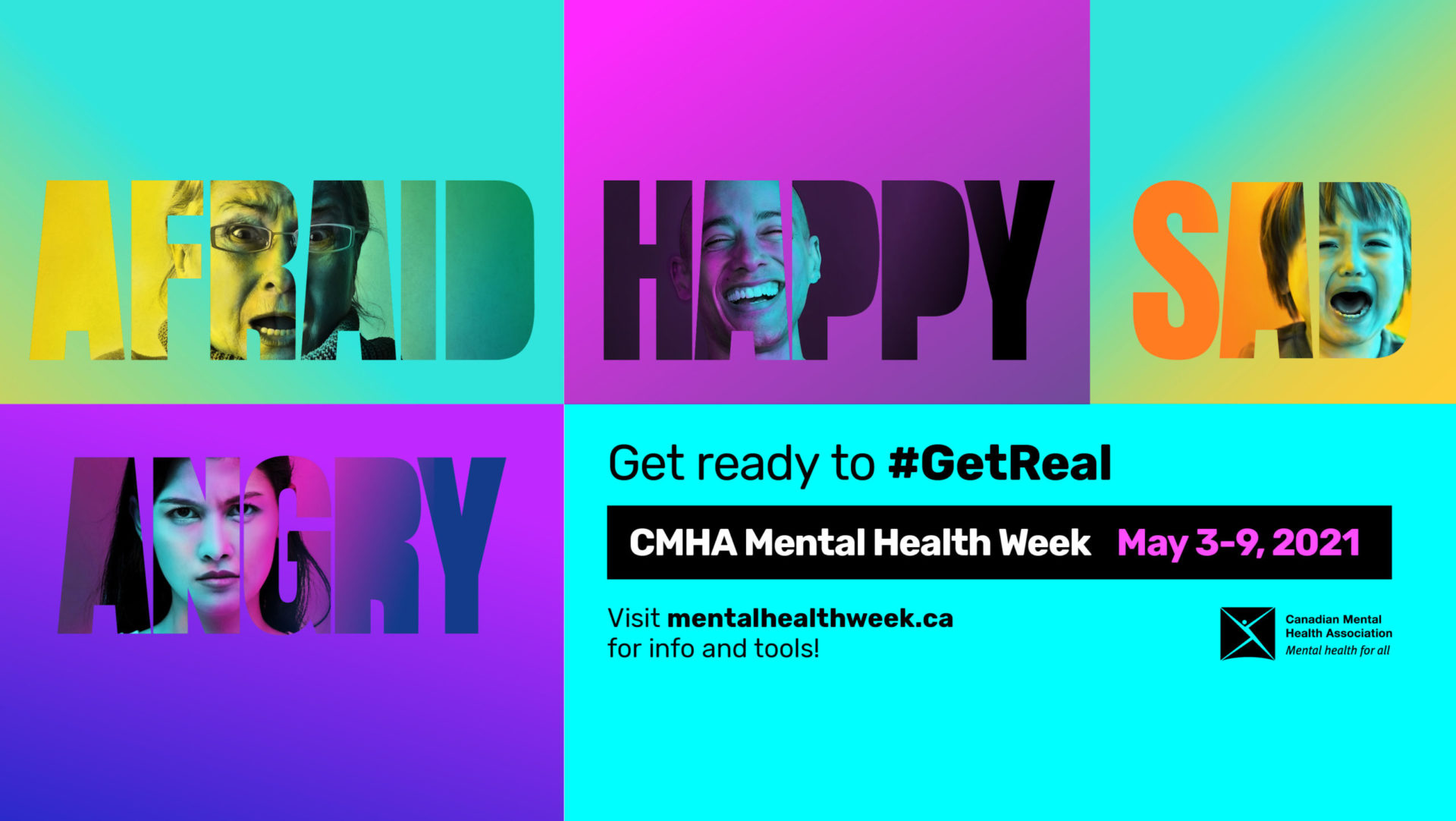 CMHA-PEI Mental Health Week

May 2-8 is CMHA's 71st annual Mental Health Week. MHW is a social change campaign to shift attitudes and perceptions about mental health. The "#GetReal about how you feel" campaign started in 2020 and will continue again this year with an adapted tagline of "#GetReal about how to help". For 2022, the Mental Health Week theme will focus on Empathy – Be there, listen completely, and see the world through their eyes. It's how to really help. Before you weigh in, tune in.
For more information, toolkits, and resources click here to visit the CMHA National Mental Health Week page.
How to Support CMHA-PEI & Mental Health Week
We encourage businesses, organizations, towns and cities to download and sign this proclamation to promote and encourage good mental health within the workplace and community!
Want to promote around town, or in the workplace? Download and print a copy of the Mental Health Week poster here!
Donate today! 
To donate to CMHA-PEI online Click here. OR by calling (902) 566-3034 between 9 am and 4 pm, Monday-Friday, or by mail to P.O. Box 785, Charlottetown, PE C1A 1S1. Cheques can be made out to the Canadian Mental Health Association, PEI. Tax receipts will be issued. Any donations made to CMHA-PEI stay in the province in support of mental health programs and services for Islanders. CMHA-PEI staff is all still working hard every day to keep Islanders healthy and safe.
Follow us on Facebook, Twitter, and Instagram. Don't forget to use the #GetReal hashtag and tag us in your #MentalHealthWeek posts!
Here is how you can partake in this year's Mental Health Week Activities & Events
CMHA-PEI will have a Virtual Zoom Event featuring our Peer Support Staff discussing the importance of Empathy in relation to their role at CMHA. The team at CMHA Nationals along with the CMHA Ontario Branches are also hosting a virtual event "Exploring Empathy: A Canadian Conversation". Our CMHA Learning, Training and Support Hub also has 2 offerings during Mental Health Week! Learn more about these upcoming events and sessions below.
---
CMHA National and CMHA Ontario Branches Present Exploring Empathy: A Canadian Conversation

Monday, May 2nd, 2022 at 1:00 p.m AST, join us for "A Canadian Conversation" that will explore all that is Empathy. Featuring guests Sophie Gregoire Trudeau, Michael Landsberg and Kayla Breelove Carter, and Emcee Nick Petrella. You can join on Facebook Live over on CMHA Nationals Facebook Page, or pre-register to participate through Zoom. To learn more and to register click here!
---
CMHA PEI Virtual Zoom Event with Peer Support Staff

Tuesday, May 3rd, 2022, at 7:00 PM join our Peer Support Coordinator, Ashley Belanger-Birt for a discussion surrounding the role that empathy plays in Peer Support. To join the Zoom event, click the link below.
Topic: Mental Health Week – This is Empathy
Time: 7:00 PM AST
Join Zoom Meeting: https://us02web.zoom.us/j/3381028372
Meeting ID: 338 102 8372
---
CMHA PEI Learning, Training and Support Hub Session – Exploring Self-Esteem
Beginning Wednesday, May 4th, this three-session course is focused on exploring why we struggle with self-esteem, the importance of positive self-talk, and how to develop a daily practice of self-love. Learn about the four dimensions and develop a plan to strengthen and build your self-esteem.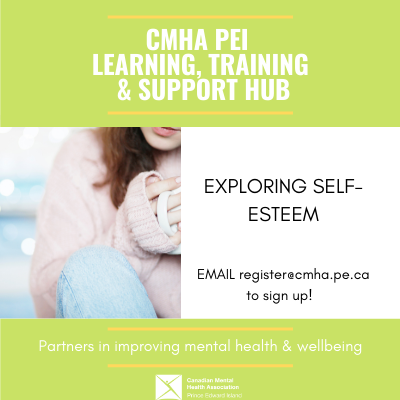 Free | 3-weeks | online
Location: Zoom
Date: Wednesdays from May 4 – May 18
Time: 1:00-2:30pm
To register, email [email protected]
---
CMHA PEI – Hope Centre & Notre Dame Place BBQs

Join us on Wednesday, May 4th from 12-1 PM at our Hope Centre Clubhouse in Alberton, or our Notre Dame Place Clubhouse in Summerside for a free BBQ! Stop by and meet some of our staff, clubhouse members, and fellow community members and enjoy a hamburger or hotdog hot off the grill!
Hope Centre Clubhouse Location – 410 Main Street, Alberton, PE  C0B 1B0
Notre Dame Place Clubhouse Location – 67 Duke Street, Summerside, PE  C1N 3R9
**Rain Date for Notre Dame Place in Summerside will be Thursday, May 5th 2022**
---
CMHA PEI – Montague Ice Cream Social

Join us at our Montague location on Thursday, May 5th, 2022 between 12:00 and 1:00 PM for an Ice Cream Social! Drop by for some casual conversation, a chance to meet and chat with our staff and fellow community members, and to enjoy some COWS ice cream!
CMHA PEI Montague Location
572 Main Street Montague, PE  C0A 1R0
---
CMHA PEI Learning, Training and Support Hub Session – Developing Self-Compassion
Self-compassion means responding to yourself with kindness when you are experiencing a difficult time. This webinar will help you understand the benefits of being kind to yourself and how to develop a regular practice of self-compassion.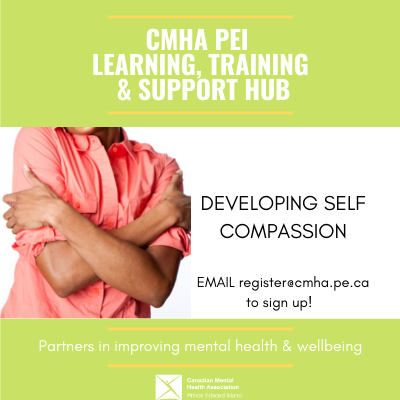 Free | 1.5 hours | Online
Location: Zoom
Date: Thursday, May 5
Time: 7:00-8:30 pm
To register, email [email protected]
---
CMHA PEI Presentation – Supports Offered Through CMHA PEI
Listen as CMHA PEI's Reginal Director, Les Wagner outlines and describes the supports and programs offered through CMHA PEI Division in this PowerPoint presentation.