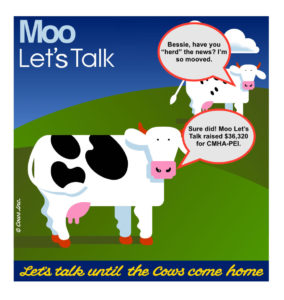 It was below zero, after dark, and still Islanders lined up on the sidewalk in patient pursuit of frozen dessert. "Lock the door!" an employee had to command at the COWS location on Queen Street in attempt to finally close the store for the night. With that untameable queue, matched by the demand at the COWS Creamery location, the conversation about mental health correspondently extended.
March 1 was an unlikely occasion for ice cream, but one month after Bell Let's Talk day, COWS donated its proceeds from ice cream sales to the Canadian Mental Health Association, as well as proceeds from t-shirts reading, "Moo Let's Talk." The date should have been the 22nd birthday of Jason Driscoll, a former COWS employee, UPEI student and renown companion and goofball.
Jason never talked about his mental health struggles, and in May, he died by suicide. As his parents resolved to keep talking about this invisible type of pain, the campaign reached students, seniors, toddlers, and people from Souris to Summerside who agreed that the mental health discussion must continue—until the cows come home.
"Jason couldn't talk about it, but we can," say his parents, Heather and Joe Driscoll. Chocolate-dipped cones and marshmallow smell began soon after breakfast, and a friend of Jason's grandmother arrived to fill $20 worth of strawberry and chocolate flavour into her own Rubbermaid container. "If they've given up something for Lent, it doesn't apply today," said John Clarke, Arch Deacon of St. Paul's Church, licking a scoop of caramel moochiato. "I've given them the day off."
The campaign penetrated beyond the Driscolls' network. CBC News, The Guardian and a Hot 105.5 remote station rallied Islanders to support the work on mental illness, which approximately one in five Canadians experiences (though mental health spending only makes up 6.8 per cent of the province's health budget). At one point in the afternoon, when the Creamery location alone had already sold 1,188 cones, among more than 100 customers Joe could spot, he personally knew only four.
Mid-day, mid-term, the pop-up COWS shop at UPEI had unprecedented turnout. "Never in the 10 years that I've worked here have I ever seen any place on campus this full," said Treena Smith, director of student affairs, "unless they're forced to be there, or you're handing out $1,000 bills."
Students instead handed out their own bills as donations, filing into the student union building and looping around the ice cream counter in the shape of a giant "J." Student Amy Ricks handed over a coffee cup full of money; she works as a coffee barista on campus, and she was donating all her day's tips.
UPEI President Alaa Abd-El-Aziz served ice cream streaked with butterscotch and chocolate chunks (this task isn't specifically in his job description, but he says it falls under "other jobs as required"). He paused the dishing to announce a $1,000 donation to the CMHA in Jason's memory. "This is one thing to show how much we loved him," he said.
The ice cream tub emptied before COWS President Jackie McIntyre dashed out and returned cradling 11.7 more litres of Wowy Cowy.
Then came the politicians: Leader of the Opposition James Aylward and Health Minister Robert Mitchell, who didn't even roll up his sleeves before dunking his fist into a tub in a cross-party scoop-athon with Green Party Leader Peter Bevan-Baker (when Bevan-Baker forgot one customer's order, he reminded them, "Sorry, I'm new at this.")
The temperature dropped with the sun, but customers clenched their cold teeth and waited long after they knew the store had run out of waffle cones. One mother kept her one-year-old up past bedtime to support the campaign; one 15-year-old skipped her school ski trip to help all day at the store. Empathy was a force to be reckoned with.
Why was it that the campaign surpassed the maximum sales estimate before 4pm? Partly because P.E.I. harbours unsung saints looking for a way to help; the seniors home, Garden Home, bought a $200 tub, resold it in individual scoops to its staff, then returned to COWS to donate all the resale money. Partly it was because Jason was so adored, but most key was that Heather, Joe and his sister, Vanessa, have had the resilience to share the inexplicable possibility that he didn't adore himself.
The family was ice cream bar hopping between campus, downtown and the Creamery, until the end of the night, having left their house that morning at 6:45am to deliver a Boston Cream cake to Jason's grave, where Vanessa had preserved tradition by eating the cherry on top. In honour of Jason's fondness for Pokémon, Heather was wearing a scarf the colour of Squirtle; in honour of Jason's carefree wardrobe, Vanessa had a faint mark of ketchup on her new Moo Let's Talk shirt.
And in honour of Jason's life, the family has been talking about mental health ever since Joe had to write his son's obituary the day after he died. Talking about the campaign at the ice cream shop, Joe said, "this is probably the most special thing that could ever happen."