CMHA PEI Division invites you to join us in supporting mental health as we participate in Giving Tuesday on December 3. In the same way that Black Friday opens the shopping season, Giving Tuesday opens the giving season, uniting charities, companies, and individuals in the spirit of giving. Canadians participating in the international Giving Tuesday movement are encouraged to join in, give and volunteer for their favourite cause.
For those coping with mental health issues, the holidays can represent a daunting, overwhelming challenge every year and feelings of isolation can be exasperated during the holidays. CMHA PEI has a long-standing program to help people during this difficult time. The White Cross Program has volunteers that actively seek donations to include in gift packages to members who might not have a network of friends and family to gather with over the holidays, and/or the financial resources to invest in small necessities and luxuries.  These small gifts and acts of kindness go a long way in ensuring the recipients feel valued and maintain good spirits during a time which can be particularly hard for some.
In 2018 the Christmas Campaign resulted in over 950 gifts being distributed to individuals from across the province. Gifts include hats, mitts, gloves, toiletries, calendars, books and coffee cards.
Your Giving Tuesday gift will help our White Cross volunteers reach as many Islanders as possible.  During this season of giving, you'll be making a meaningful gift to many people across Prince Edward Island who will cope with a mental health issue in the coming year. If we reach our goal, we will re-direct your donation to the area of greatest need. Please note that all donations stay in the province in support of mental health programs and services for Islanders.
Please donate today! Click HERE to donate online.  You can also call 902-566-3034 or visit us at 178 Fitzroy Street to donate.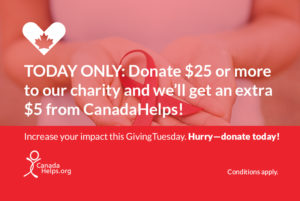 By clicking the link above and donating $25 or more, your donation could qualify for a $5 top up from Canadahelps.org. Just one more reason to participate.