LivingWorks "Start" Training
LivingWorks "Start" is a 90-minute, online training program that will teach you how to recognize when someone is having thoughts of suicide and to take meaningful action to keep them safe.
The LivingWorks (LW) Start experience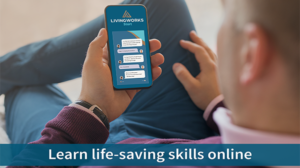 Accessible via any computer, smartphone, or tablet, LW Start includes customization, simulations, and interactive content. You'll learn about suicide and its prevention, receive personalized information, and gain a series of skills to keep someone safe and alive.
A "Find Safety" button is present throughout the training to connect you to supporting resources if you experience any distress. Once you've completed the training, you can practice additional scenarios and access ongoing resources. You may also request a follow-up call from CMHA – please see details below.
Start learning goals
This training will teach you to:
Recognize when somebody is having thoughts of suicide
Ask clearly and directly about the possibility of suicide
State the seriousness and show that person you want to help them
Connect the person to further resources for safety and support
Who should take Start?
Start is an ideal option for anyone who wants to help keep others safe, regardless of prior background or experience. Start can be taken by anyone 18 years and up. For those15-17 years, collaboration with a parent or guardian is recommended.
How to enrol
To sign up for Start training, please click the following LINK. It will take you to an online secure payment portal. The cost of Start training is $39.95 (plus applicable taxes). Once purchased, Start training will be accessible within 1-2 business days. Instructions will follow.
Request a follow–up call for Start
Through CMHA's experience of offering Start to our staff and volunteers, we've learned that offering participants a chance to discuss their training experience as a follow-up, can help to clarify understandings and reinforce Start learnings. With this in mind, CMHA is offering Islanders a chance to review their Start training experience by phone with one of our trained staff.
If you would like to schedule a Start follow-up call, please email us at [email protected] and indicate two dates, along with times, that you'd be available for a 30-minute Start follow-up phone call, available Monday to Thursdays between 9 am and 4 pm. We will reply to your request within two business days.
Please note that this email address is not monitored daily. It is not a distress or crisis service. If you are experiencing distress or have thoughts of suicide, please call the Island Helpline available toll free, 24/7 at 1-800-218-2885. Help is also available nationwide by calling the Canadian Suicide Prevention Service toll-free at 1-833-456-4566. Learn more at Crisis Service Canada.
Evidence for Start
Start complies with the US Substance Abuse and Mental Health Services Administration (SAMHSA)'s Tier III evidence-based training criteria. Trainees have been shown to gain increased skills in recognizing someone's thoughts of suicide and providing appropriate support to keep them safe.