Thank you for considering the Canadian Mental Health Association as the recipient of proceeds from your fundraising initiative. Through your fundraising efforts CMHA-PEI is able to work towards the goal of mental health for all Islanders. There are a number of different types of fundraising events that you can organize, or you can join an initiative that has already been started.
INITIATIVES YOU CAN JOIN!
Join the Prince Edward Island Marathon in October 2021!
In 2017 we partnered with the PEI Marathon to help raise awareness and money for the mental health programs on PEI. Anyone can participate. With everything from a 5K walk right through to a full marathon (Boston qualifier), there's something for everyone!! When you register you're automatically set up with online tools to help your fundraising efforts. Watch below as Stan Chaisson, current record holder and four-time winner of the PEI marathon, explains all the different ways that you can support CMHA-PEI through the PEI Marathon.
CREATE YOUR OWN FUNDRAISER
You might be interested in hosting your own fundraiser. This can be anything from dress down days at work to hosting a fun run, concert, auction, talent show etc… The possibilities are endless. We at CMHA-PEI are able to offer support to fundraisers in a variety of areas (marketing collateral, promotion, ticket sales, budgeting and cash-flow management). Some take us up on it, some have it all handled. Please have a look at our third-party fundraising policies and application form for more detailed information.
Examples of third party fundraisers: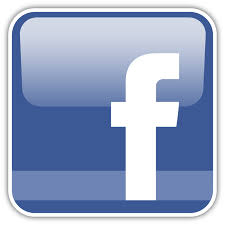 You can now fundraise through Facebook! They recently enabled a new program with PayPal where you can start your own fundraising campaign with 100% of the funds going to the charity of your choice. We are one of the registered recipients. Anyone who donates remains anonymous and we are able to pull reports based on campaign name. Click here for more details. Happy fundraising!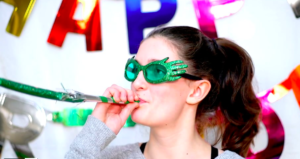 Skate for Mental Health was organized by mental health youth champion Ellen Carragher and her parents Denise and John. In Ellen hosts a public skate and an online auction in lieu of a birthday party. In 2016 the event raised over $9,000. In 2017 the event raised $16,000.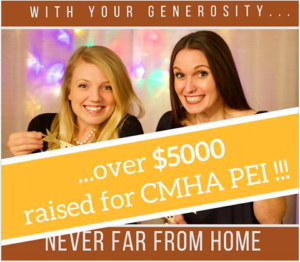 Never Far From Home was a concert hosted over the Christmas Holidays 2017 at the Arts Guild in Charlottetown. Two friends, and former UPEI students Brittany Banks and Natalie MacFadyen decided to host the event while home for the holidays from their work/studies in Toronto. Through endearing and funny stories, paired with musical numbers and accompanied by their friends, former professors and cast members from the cast of Anne and Gilbert, they played to a packed house and raised over $5,000 for CMHA-PEI!!
Red Nose Talent Show is another annual event that was first held in October 2016 by Kate Flanagan. It's a youth talent show in memory of her good friend and former educator Lisa Carragher. The event is held at Florence Simmons Performance Hall, Holland College and consists of a dozen youth or youth groups that showcase a myriad of talents including vocals, dance, gymnastics and comedy. The event has raised over $15,000.