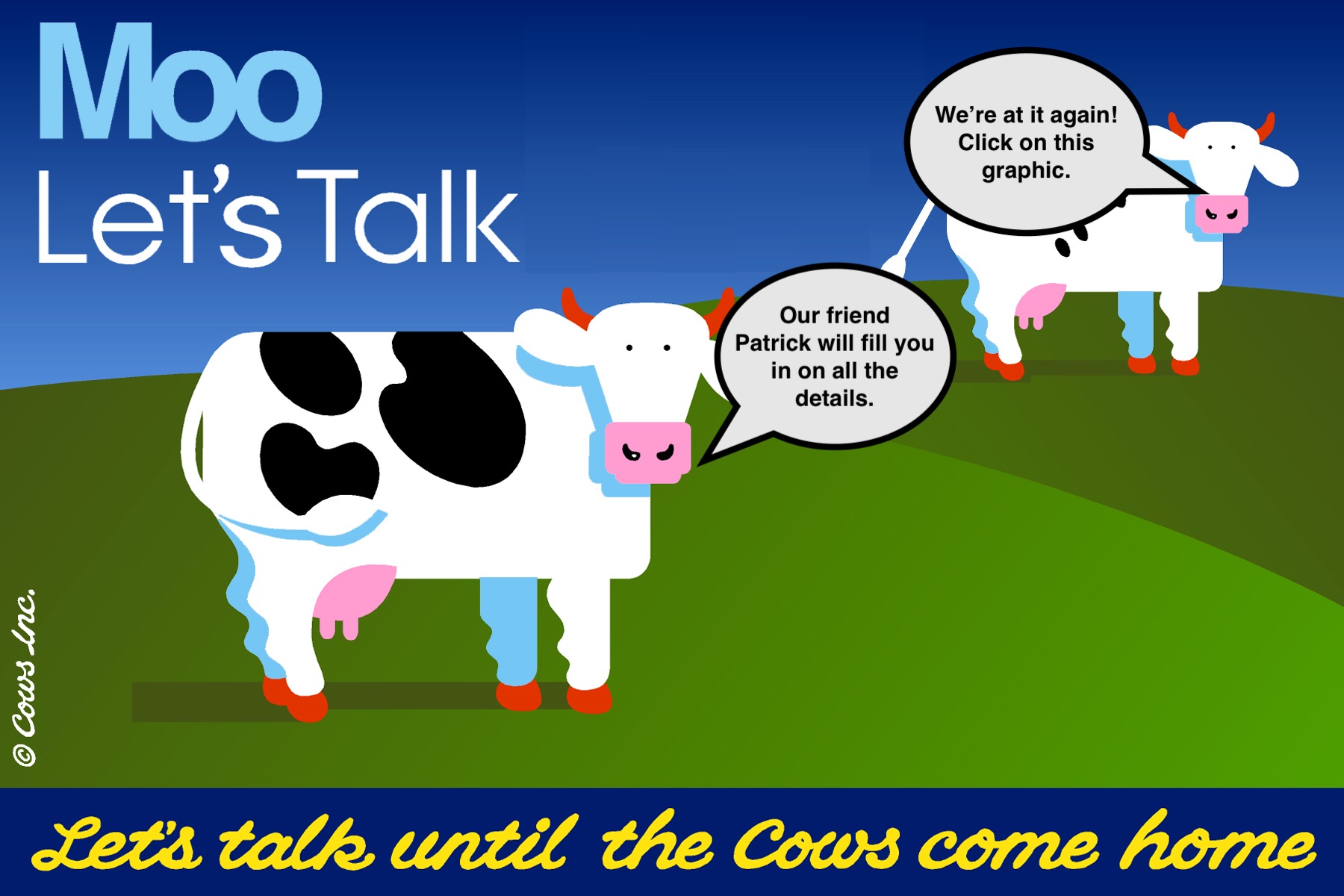 Moo Let's Talk

Join Us for The 5th Annual Moo Let's Talk Event!
Take a minute to watch our friend Patrick Ledwell fill you in on this year's campaign. It's going to be udderly fantastic!
HOW WILL THIS YEAR'S EVENT WORK?
On March 25 NOW FRIDAY, APRIL 1st, "Let's Talk Until the COWS Come Home" and keep the conversation going about the importance of our mental health and well-being. Here is how you can support this year's campaign and help us spread the word!
Pre-Ordering and Curbside Pick-Up Only This Year!
ORDERS ARE NOW CLOSED FOR COWS 1/2 LITRE ICE CREAM. SEE YOU AT THE COWS CREAMERY LOCATION ON FRIDAY, APRIL 1ST FOR PICK-UP!
This year, there will be 1/2-litres for PRE-SALE between March 17th-24th! COWS will be offering ice cream for PRE-ORDER ONLY at $14 each (no tax). CURBSIDE PICK-UP ONLY will be offered on the day of the event at the COWS Creamery location.
When: From March 17th- March 24th, pre-order your 1/2-litres.
Where: March 25th FRIDAY, APRIL 1st at the COWS Creamery location only, curbside pick-up at your chosen time slot.
Please note, we will not be selling ice cream at the COWS Creamery location on March 25th FRIDAY, APRIL 1st, this will be Curbside pick-up day only!
COWS and CMHA-PEI ask that you stay in your cars as you wait in line, to adhere to COVID-19 restrictions and guidelines, and ensure the safety of everyone involved.
Let's all work together to make this an udderly fantastic day in support of mental health across our Island!
Other Ways to Support the Event
Make A Donation
Mental health matters now more than ever, and with this event, it is the hope of COWS and CMHA PEI to encourage conversations, decrease stigma and raise funds in support of mental health initiatives across PEI. If you can't make it to pick up some ice cream on event day but still wish to support the Moo Let's Talk Campaign we ask, that if you can, make a donation to help us in our efforts! Click HERE to donate online or call us at (902) 566-3034.
Hang Posters
Download & print a copy of a Moo Let's Talk poster, & hang it in your workplace prior to the event, to encourage staff to partake. Hang a poster at your local gym, or grocery store to help spread the word. This year's poster includes a QR code directly linked to the 1/2-litre order form!
Become A Sponsor
It's not too late to become a sponsor! Check out our MLT SPONSORSHIP PACKAGE- 2022.
Social Media
Tag us and COWS in your posts, stories, and reels, to join in on the conversation through social media!
Instagram: @cmha_pei @cowsicecream
Facebook: @cmhapeidivision @COWS
Twitter: @cmha_pei @COWSIceCream
Use #MooLetsTalk and #MentalHealthMatters and share how you're enjoying your ice cream while keeping the conversation going about mental health!
IT'S NOT JUST A FUNDRAISER!
MOO LET'S TALK is an annual fundraising event and general awareness campaign hosted by COWS Inc. Parodied after the popular Bell Let's Talk, Moo Let's Talk is designed to encourage people to talk about their mental health, seek help if they need it, and raise funds for mental health programs and services delivered in the province of Prince Edward Island.
Background of the Event
Moo Let's Talk Day is an event developed from an idea presented to COWS and CMHA-PEI by a family member of Jason Driscoll. Jason was a COWS team member. He loved the job and his coworkers, many of whom became his close friends. He made a lasting impression on everyone he met and was an accomplished, loving and passionate 21-year-old with a seemingly laid-back outlook on life. However, Jason was struggling with his mental health, unknown to his family and friends. Jason died by suicide in May of 2017. His friends and family decided to share his story to encourage those experiencing mental health concerns to reach out for help.
Jason's cousin, Meg Campbell, approached CMHA-PEI and COWS with an idea. She envisioned COWS hosting an event that would encourage people to eat ice cream, talk about mental health, and share experiences. The event would raise money to support CMHA-PEI, help support suicide prevention efforts, create a conversation around mental health and encourage people to reach out for support when they needed it.
COWS, CMHA-PEI, and Jason's family and friends came together to host the first Moo Let's Talk Day on March 1st, 2018. Since then, Moo Let's Talk has become an annual event, with all proceeds donated to CMHA-PEI. Each year there are new and exciting ways to encourage everyone to keep the conversation going. To date, the campaign has raised just over $130,000 in support of CMHA-PEI.
CONTACT INFORMATION
Shannon Noonan
Fund Development Coordinator
​(902) 629-0245
PRESS & MEDIA CONTACT
Lori Morris
Communications Coordinator
(902) 393-6416
Thank You to Our 2022 Community Partners!!